Edmonton Symphony Orchestra Blog Night

So here I am at the Winspear Center blogging about the Edmonton Symphony Orchestra. We have been given a private enclosed room, similar to a "crying room" for babies. We are about to hear the Jazz Masters concert series. The symphony members are starting to fill their seats and we are about to be in the dark.
I haven't been to the Winspear in quite some time, nor the Citadel and I'm thrilled to have the pleasure to attend both this week. On Wednesday I went to the Citadel's production of Beauty and the Beast, with my fabulous friend Melanie who was gracious enough to give me her husband's extra ticket. That performance was magnificent.
Right now there is a fellow making some announcements. He started by telling us about "After thoughts" in the lobby after the show, and proceeded to introduce none other than, us in the blogger room. The concert maestro was just introduced, Bill Eddins. And we're off and blogging . . .

I sit here in the dark and feel an odd connection to the ESO this week. I have only just recently gotten in touch with an old friend, Eliza, that I grew up with from about age 6 to graduation. As many people do, we lost touch but through the magic of Facebook have reconnected. Her mother and father played with a quartet in the 80's and her father, Harlen Green, played lead flute and piccolo with the ESO. I was saddened to learn he was ill and this past week passed away. So this experience and this music is very timely and brings me back – WAY back. I feel a deep connection, through music tonight, with past times and very dear old friends. I'm grateful to have been chosen to write about it tonight.
Berstein's West Side Story
We are currently indulging in the sweet sounds of Berstein's West Side Story. They have definitely given it life and a jazzy feel. The music takes me away to a love story, the streets. To exciting times. The violin's song is gentle . . . and now a change of pace, to shake it up. Fight scene, turmoil, anger. The xylophone chimes in sporadically. Heavy drums, minor keys . . . now silence and gentle again.
Flutes! This is for Harlen Green. His memory is here in this building, with these people. He lives on with his legacy.
When I go to the symphony I like to hear it, not see it. I close my eyes and let the music enter my soul. I let it take me away to wherever it leads. The piece that I remember the most is the William Tell Overture, which I heard them perform years ago.
Oddly the first row of seats are empty, as are the first few on each side. I can imagine the sound might be a bit overwhelming up that close. Perhaps not the best seats in the house in this case.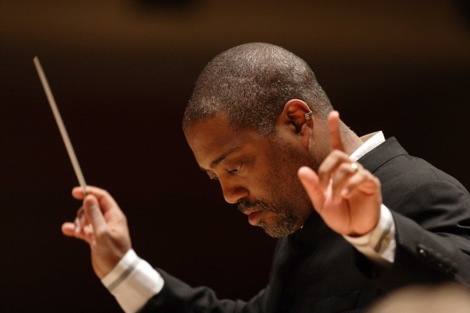 The maestro, conductor Bill Eddins, is very animated and clearly he loves his job. I am all about the passion. I have to follow mine, photography, and admire others that do the same. His passion comes through in the music he is leading. It is spirited, energetic, as is he. I feel as if I should be in a dusty, dirty old theatre at an off Broadway production of West Side Story. The first piece of music ends and a standing ovation erupts. The orchestra graciously receives it.
What will be next for the encore?
My Blogging The ESO live report continues on Page 2:Edmonton Symphony plays Porgy and Bess.