Wallpaper: Winter HDR of Alberta Rocky Mountains at Night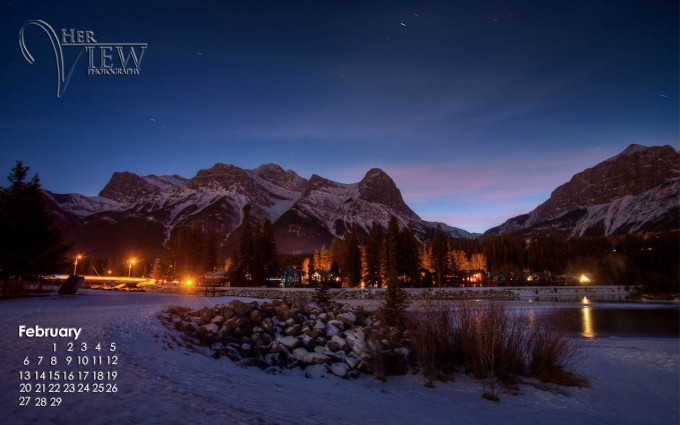 Wallpaper for February 2012 – HDR of the Rocky Mountains
The February 2012 desktop wallpaper is now available for download in the top six most popular screen resolution sizes and proportions.  Please select the one closest to your screen size and proportions for the best fit.  On a PC, right click one of the links below and then "save target as..", on Mac, Ctrl-Click.  If it's not quite the right shape or size you may have to choose "stretch to fit".  If it doesn't look quite right you may have to chose another size that's closer, check the proportions of your screen.
Please note: I've added a sixth larger size, 2560×1440 as I got requests for wallpaper for larger monitors.
Download February 2012 wallpaper below:
1024×768 | 1280×800 | 1280×1024 | 1366×768 | 1440×900 | 2560×1440
 This month's wallpaper image was taken one evening in Canmore, in the Alberta Rocky Mountains. I was away for a few days on my own to get some quiet and work on some writing. I couldn't resist the large, almost full moon that night and the clean, crisp mountain air so I found a great spot for a nighttime HDR image along the river.  I took five exposures ranging from 8 seconds to almost 3 minutes,  using my iPhone as a timer. I wanted to get just a hint of detail in the mountain and homes on the hill, as well as retain all the colour and detail in the lights and the sky.  You can see the stars are just starting to leave small trails at that length of time, which is perfect!
Hope you enjoy this image as much as I enjoyed creating it!
New – buy a print of your favorite desktop wallpaper image!
If you are enjoying your desktop image so much you can't bear to part with it as the month ends, have no fear, we have a solution to that problem!  Prints are now available for purchase of all 2012 wallpaper images.  Buy one now or see pricing.
If you are look forward to downloading this monthly wallpaper, please use the social media links below to share with your friends and spread the word.  Thanks, much appreciated!