Story of my journey to Peru 2007
Peru was actually not on my "list" of places in the world I wanted to visit. I'm drawn to places with art, culture and great food like Asia, Italy and France. Little was I prepared for what I experienced in Peru – ALL of those things! I was blown away by the amazing people of Peru: their charming faces, their humble smiles and downcast eyes, their love for their culture and heritage and pride in their country, their resilience in the face of hardship, and most of all their kindness and loving spirits. Never before have I been so immersed into a country I've visited, to feel the heart and soul of the people as I did on this journey. Please allow me to share my experiences with you.
My journey to Peru began in January 2007 when I met a lady at a seminar in Vancouver. Diana and I connected immediately because we both had similar visions – to take people on tours around the world. I want to teach people about photography and art, she wants to guide women on spiritual journeys. Peru actually wasn't on my list of "must visit" places, but when an opportunity to go as her assistant and official photographer arose, it was too good to pass up. I was about to learn how different this trip would be from your regular tourist vacations, and for that I'm SO glad.


Prior to even leaving Canada, we were told about a charity we would be working with and how badly they needed funds and school supplies for kids. I began soliciting all my family and friends for money and donations, and I was able to raise about $900. With some of that money I bought as many scribblers and note pads as I could fit into a duffle bag to drag along with me.
This quote was displayed onscreen on my plane to Lima: "The world is a book. Those that do not travel read only one page" – Saint Augustine. I think I read a whole chapter just in Peru and it makes me want to read more.
We started the trip off in Lima, a rag tag group of 8 "gringo" women and our guide Washington. Washi, as we called him is a local Peruvian, and was a constant source of information about the culture of his people, how they live, and their beliefs. He is also very personable and charming and he loved to hug all of us ladies and called us "Pacha Mama's children" meaning "mother earth's children". We fell in love with him immediately.
Next we flew to Cusco, set in the mountains at about 12,000 feet above sea level. It is a gorgeous city rich in culture, crafts, music, dance and Inca heritage. Many of the walls of the city are built on top of original Inca walls built over 500 years ago and more. It is there we started our spiritual journey by bonding with each other through exercises. We each wrote one intention we'd like to achieve during this trip. I wanted to open my heart wider to love more deeply and to connect with and have my "inner goddess" flourish and grow. We also wrote and then burned one thing we wanted to release and leave there. It was a great way to get to know each other.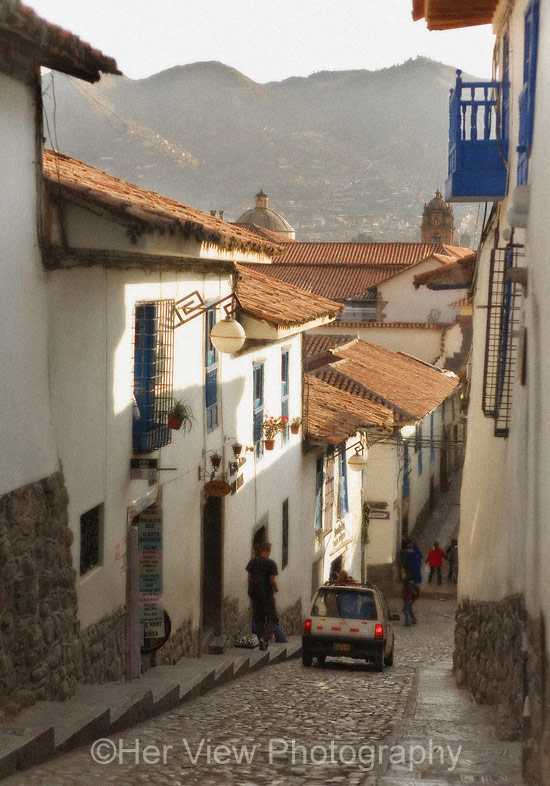 While in Cusco we visited 2 Inca ruin sites with our own personal Shaman Jesus. He took us to a newly discovered site, not even open to tourists yet and we participated in a circle ceremony inside a cave. He channelled an ancient spirit that spoke to him and said that he was an old man and was sad because many people come here and don't understand that place, but that he was happy because we had come and we were respectful and understanding of his people. I personally had a feeling that I'd been there before – but not any old déjà vu feeling – one that I might have actually lived there in Inca times. It was a bit of a freaky experience, but totally connected me to the place even more.
One of our highlights in Cusco was having a picnic lunch, brought to us by Washi, in the forest outside one of the ruin sites. He then surprised us with an Andean pipe band, comprised of four brothers ages 12-19, which played in the Eucalyptus forest just for us. We built a fire, danced and were amazed by the talents and the passion of these young men.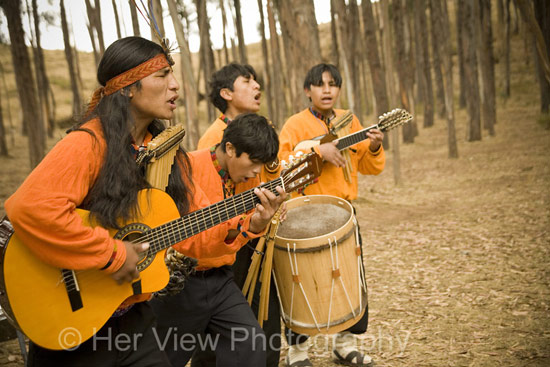 Taking Spanish lessons and learning salsa dancing were also part of our immersion into Peru. The local people were so happy when I spoke to them in their language, I wanted to learn more and connect with them more deeply. I was so taken by the language that I've started taking Spanish lessons upon my return to Canada. Several nights of salsa dancing at local hangouts, not tourist bars, were exhausting but oh so much fun. We met a lady that is a competitive dancer who was fabulous, a national champion. But she's having trouble getting a Visa to travel to the world competition. Travel is very hard for Peruvians outside their country, as many of them leave and don't go back. Washi's brother is also trying to get to the US to study English and the tour leaders are trying to sponsor him, with much difficulty. We learned about some political issues and boundaries that are not pleasant, not all the world is about love unfortunately. But I still believe in trying to help those that we can.
From Cusco we journeyed by van into the Sacred Valley and once again Washi did not disappoint. Lunch along side the road, overlooking an amazing vista – a large lake in front of us, Andes Mountains in the distance. We had more food than we could eat and soon we started attracting dogs and children hoping for a few scraps. Seeing the joy on their little faces as Washi lined them up and gave them each a granola bar and an orange was a pleasure I will not soon forget. I had noticed a sheepherder and her baby coming down the road and her dress was so colourful, her face so shy, I had to come closer for a photograph. She willingly obliged me, and I gave her a few soles (maybe a dollar) and my banana and half of my tangerine. She was so grateful and held my hand tightly for a long moment.
You cannot buy this kind of experience!