This is what your Peru calendar purchases helped to do
I want to say thank you to all of you that purchased one of my 2008 Peru calendars this year. My intention was to send part of the proceeds back to Peru to help the very people in the photographs. I did just that with all of your help. I didn't send much, and wiring money turned out to be an expensive undertaking – but even a few hundred dollars goes a long way down there.
Washington is the young Peruvian man you see in the photos with the kids below. He was my guide when I was in Peru. He lives in the Sacred Valley in a lovely and quaint town called Ollantaytambo (say: Oy an tay tam bo) He grew up as a child there not speaking English and singing to the tourists to make a little money. A wonderful lady from the US took him under her wing and helped him get an education. Today he is pretty fluent in English, Spanish and Quechua (native tongue of the ancient people).
Because he received such a hand up, he now wants to do the same for all the people in his area. Many children there have almost nothing. No clothes other than what is on their backs. No money for school supplies or lunch. Some have parents that cannot care for them, alcoholics, very poor, etc. Many women are abandoned by their husbands and left with 5 or 6 young children to feed and care for so they're forced to beg on the street or pose in tradition clothes and hope the tourists will give them a little money to take their photo (I always did!). It is a very hard life – and yet somehow, they always have smiles on their faces and a warmth in their hearts.
The people of Peru have a gentleness about them. They say the eyes are the windows to the soul – well their eyes speak volumes. They speak of the pain and hardship, but also of love, pride, and even happiness. Especially the children. They have a playfulness that most kids have, but they also have a sense of responsibility and respect. The kids we cooked and served lunch to – and the ones we took shoes to – again and again, I watched older kids make sure their younger siblings were fed and shoed before they asked for theirs. Even other younger kids not related to them were taken care of too. There is a genuine caring and huge sense of community among these people that we in our society seemed to have lost, or at least it seems that way sometimes.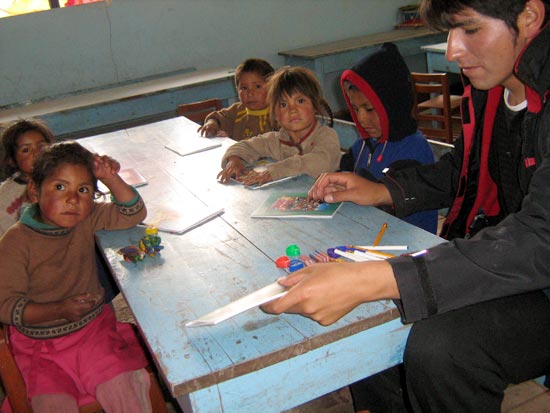 So I did not hesitate for a minute to send funds directly to Washington because I knew all of it would be spent on helping the people, mostly the kids. He has a beautiful daughter too and his heart is always in the right place. This is the letter he sent to thank me, and these are his photos. So you can see where you money has gone to work first hand. Thanks to all of you.
Here are some photos and let me tell you the money that you send me we gave 200 school suplies for the children in the communities, we had to walk for hours in order to get there, i went with my brother carlos.
A lot of love and Happpiness my dear Darlene.
Love and light.
Washi.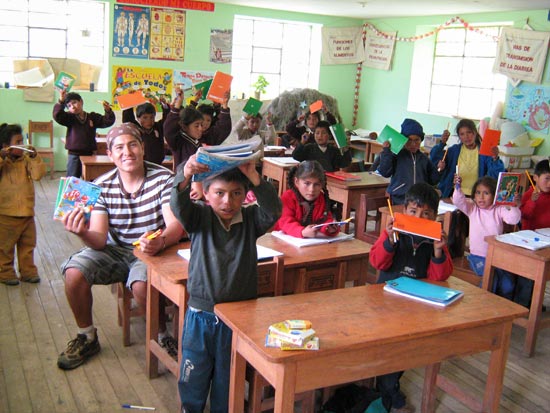 Thanks to Red Lotus Tours for taking me on that journey, which was only the beginning. Didi and Jenni – you inspire me!