Cariwest Festival and Parade
Yesterday Rob and I went to his first ever Cariwest parade, it was my fourth. I just love to photograph the parade because of the colorful costumes and characters. The music gets you moving your feet and you can't help but dance along with the infectious rhythms, especially the steel bands. Edmonton Cariwest Festival is an annual event which lights up the city for a few days with fabulous colors, rich sounds and wonderful tastes.
The parade ended at Churchill Square where the festivities continued and one could partake in Caribbean food, which we did, and watch dancers perform on the stage. We even saw Miss Cariwest 2009 being interviewed.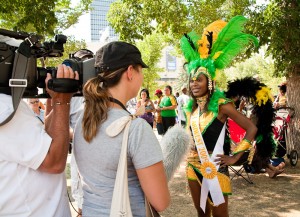 To see more photos press play below.