Wallpaper August 2012 – Besalú, Spain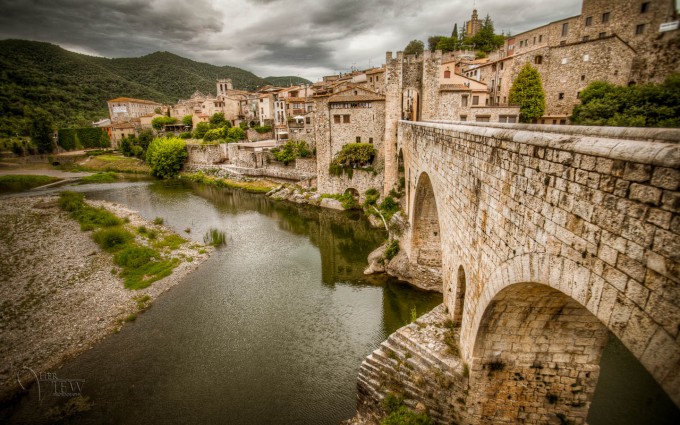 Wallpaper for August 2012 – Besalú, Spain
The August 2012 desktop wallpaper is now available for download in the top three most popular screen resolution sizes and proportions.  Please select the one closest to your screen size and proportions for the best fit (for 1280×800 use the 1440×900 one and for 1366×768 use the 2560×900 – they are the same proportions, your computer will scale them down for you). On a PC, right click and then "save target as..", on Mac just Click to open the image, then right click and choose "save as desktop image". If it's not quite the right shape or size you may have to choose "stretch to fit".  If it doesn't look quite right you may have to chose another size that's closer to the proportions of your screen.
Download August 2012 wallpaper below:
1280×1024 | 1440×900 | 2560×1440
This image was taken on a trip to Europe in 2011.  We stayed with a photographer friend of mine and her partner in Barcelona, and we all took a road trip together up the coast.  My friend Michele wanted to take a side trip to this little town and we were most pleased to do so!   Besalú dates back to the middle ages and features cobble stone streets, a walled city, and Romanesque bridge from the 12th century.   I could have wandered there for hours, I personally love history.
If you want to purchase a print of this image, or any of the past 2012 desktop wallpaper images just go to the gallery here.

Reminder:  last chance to register for the

Art of Photography
Trey Ratcliff's online course, the Art of Photography starts tomorrow (July 31st).  Don't miss out – for only $149 (save an additional 20% if you use the discount code DiscoverArt20) you get 4 video classes on consecutive evenings July 31st to August 3rd (time depends on your location) and a live Q&A session with Trey.   From the description page about this course some of the things Trey will cover will dispel these common myths:
DON'T GET DISCOURAGED BEFORE YOU BEGIN

Don't let these myths keep you from this unique opportunity to improve your photography.

Myth #1 "An expensive camera is required to take beautiful photos."

You can take beautiful and interesting photos with any type of camera including the one on your phone. You don't need a particular camera for this tutorial but if you're in the market for a new camera I can recommend several at different price points.

Myth #2 "You must know everything about your camera before you begin."

Cameras today are packed with hundreds of features accompanied by an overly complex manual. You can set the manual aside because I will teach you all you need to know to get started.

Myth #3 "Learning photography is too difficult and complex."

Terms like F-stop, ISO, and Aperture can be intimidating but the concepts are easy once you get over the initial learning curve. We will take things slow, learning as we go, and by the end you'll be taking photos that will amaze your friends and family.
This class is for beginner and intermediate photographers.  The topics over the 4 days are:
Episode 1: Getting Started
Episode 2: Photo Composition
Episode 3: Finding Your Own Style
Episode 4: Photo Editing
There are also bonus items such as two ebooks by Trey Ratcliff, 20% off additional purchases, and a members only forum.  AND a chance to win one of many prizes!